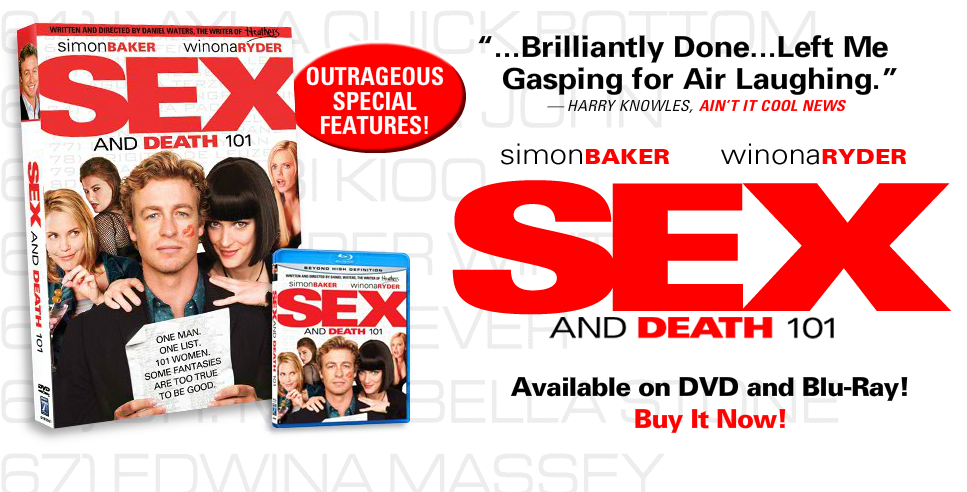 Sex and Death 101 stars Golden Globe nominee Simon Baker ("The Guardian," The Devil Wears Prada) as Roderick Blank, a successful executive and 'ladies man,' whose life is turned around by an email that includes the names of everyone he's had sex with and ever will have sex with. Oscar® nominee and Golden Globe winner Winona Ryder (The Age of Innocence, Little Women) stars as 'Death Nell,' the mysterious femme fatale who becomes an urban folk hero when she targets men guilty of sex crimes against women. The film co-stars Leslie Bibb (Talladega Nights: The Ballad of Ricky Bobby), Julie Bowen ("Boston Legal"), Sophie Monk (Click, Date Movie), Mindy Cohn ("The Facts of Life"), Dash Mihok (Kiss Kiss, Bang Bang), Patton Oswalt (Ratatouille) and Neil Flynn ("Scrubs").
Winona and Daniel Waters first met doing Heathers.
Mindy Cohn, who plays Trixie was Natalie on the 80's hit "The Facts of Life."
Daniel Waters wrote Sex And Death 101 off and on over the course of 15 years. Its cinematic antecedents were NOT American Pie or Knocked Up, but the more adult sex comedies of the 70's, such as Shampoo, Carnal Knowledge, and Bob & Carol & Ted & Alice.
The project's working title was TRULY F*CKED… but Mr. Waters thought it might be a good idea to change it. During shooting, the project was referred to as BLANK'S SLATE as not to scare away location people.
Neil Flynn, the irascible janitor from "Scrubs", is the only actor to appear in films by both Waters brothers… Mark (Lindsay Lohan's father in Mean Girls) and Daniel (Simon Baker's best friend in Sex and Death 101).
The name DEVON SEVER is quite visible in one scene as the next name on the list, but the corresponding scene with an Indian businesswoman attacking Roderick on top of a conference table after a high–level meeting had to be cut from the film for pacing.
The line of dialogue that gave Winona Ryder the most trouble in her performance as Death Nell: "Ten seconds on the shot clock, Kobe."
Much of Death Nell's wardrobe comes from Winona Ryder's closet in the form of vintage clothing from old Hollywood films, such as a Claudette Colbert outfit from It Happened One Night.
The film's theme of the Myth of Male control was inspired by Susan Faludi and her book "Stiffed." George Bataille's "Erotism," Dominic Pettiman's "After the Orgy," Thomas Moore's "The Soul of Sex" and the website "Gay Wedding Gifts" were also immensely helpful to Mr. Waters.
The music for the sad and desperate bachelor party was provided by the director's assistant and producer Cary Brokaw's daughter Kristin's band Rocket, who recently appeared on Fox's reality series, "The Next Great American Band."
The montage taking the ill–fated Roderick through Thanksgiving, Christmas, and New Year's was all done in one shot.
Death Nell's violently feminist graffiti is taken from "Period Pieces," unpublished poetry the writer/director's girlfriend, Lizette Pena, wrote during their time together. Mr. Waters asks you do not try read much into this fact.
Three important cast members… Simon Baker as Roderick, Sophie Monk as the sexy centerfold, and Tanc Sade as the secret agent Beta, are all Australian. Writer/Director Daniel Waters recommends the hiring of Australians when doing films about sex as they do not have the mighty hang–ups that Americans do.